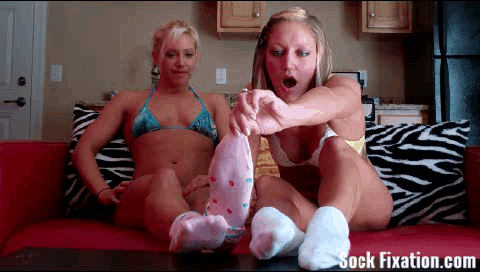 share gif:
Taylor Raz and Summer Day are two of the hottest fetish babes you will ever see in your life. Most men would kill to get with either of these two stunners, but all you have to do is follow their instructions and they will show you heaven.

We know all about your little sock fetish and we thought we would get together and give you a really special treat. Now you have two beautiful babes in some cute pair of socks all to yourself. So what do you want us to do for you? Want us to rub our feet together? Or maybe a four foot footjob?

Why don't you just lay back and let us rub that big cock of yours with our soft socked feet? We are going to make you cum using only our feet. Just imagine how good it's going to feel with four women's feet rubbing every inch of you crotch until you blow your load all over our socks.
- Taylor Raz & Summer Day