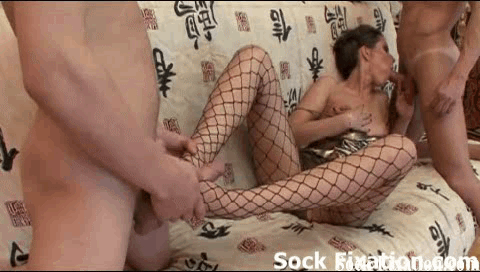 share gif:

When you give your dominatrix your credit card and inform her that your favorite fetishes are those that involve legs and feet, what do you expect to happen the next time you see her? Your slave fantasy is about to come true.

Get in here and worship me. I bought these fishnet stockings today using your money and I think they are absolutely fucking gorgeous. I have freshly painted nails too – so that means only one thing: put my toes in your mouth and give them a good clean with your tongue.

Do you like the way that I'm getting fucked by these two guys after you worship my feet? You must feel pretty silly right about now. I spend all of your money, I get you to do the most submissive of things on my behalf and I repay you with the loser job of watching over me while two superior men fuck me to heaven and back. How jealous are you, my little stocking slut?