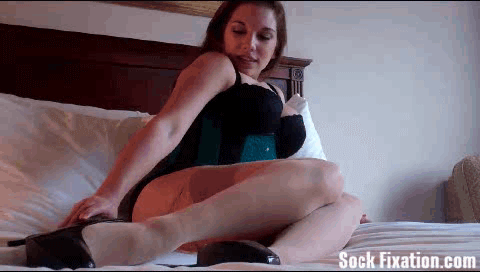 share gif:
Elena De Luca is a merciless mistress who loves having all the power in the relationship. You're going to want to get down on your knees when this hot fetish babes walks in the room or she'll make you regret it.

How do you like my new nylon stockings and high heels? I just got them today and I think they are pretty damn hot. I can see that you like them a lot with that big bulge in the front of you pants. You love it when a woman gets all done up and a hot pair of high heels and nylon stockings don't you?

There is nothing like the feeling of pulling on a fresh new pair of nylon stockings. They are so soft and stretchy and feel incredible against your skin. Why don't you come over here and give my long soft a little feel? If you're lucky I might even let you give these long sexy legs a massage.
- Elena De Luca