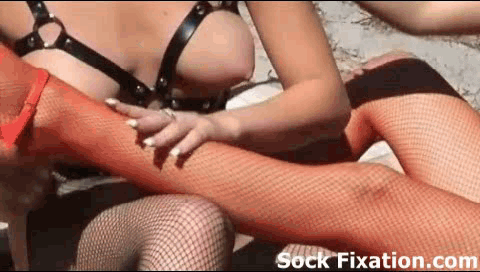 share gif:

Two gorgeous lesbians out in the open, getting their sexy on wearing leather, pantyhose and fishnet stockings. Do you want to know what the best part about this all is? You're the lucky cameraman that gets to record it!

I love playing out in public with my girlfriend, but we have found that sometimes we want to share our foot fetish experiences with the world. I hope you don't mind us when we get down and into it – things can be pretty wild when we start to feel each other's legs and lick one another's toes.

I have a really big foot fetish and I think that women have the most gorgeous legs when properly looked after. On the beach, I want you to make sure that when we rip stockings and strip fishnets, you are catching the action as best you can. By the way, I was hoping as payment after we finish you would accept an alternative form of payment. It would involve our feet and your cock. Sound good?