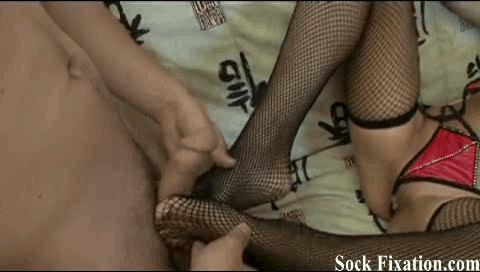 share gif:

This is one hardcore dominatrix that you really do not want to fuck with. With a shaved head, a perfect figure and a leather-clad body, how will you cope when she brings the element of foot fetish pantyhose action into the mix?

I just love playing with my titties while you watch. Oh, I see you are checking out my stockings – do you like them? They're really small fishnets, and I got them specifically for guys that are all about long legs and sexy feet. You know, I could really go with a good dicking right now. So how about you come in and put your cock inside me?

Wait up! I will let you, but first I want you to worship my feet. Lick my shoes lovingly, run your tongue all over my heels and suck on my toes as best you can. I have a perfect set of feet, and I think it's only fair that you do whatever you can to appreciate and admire them. After all, I did put on these fishnet stockings just for you.